Objavljeno: Nedjelja, 20 Ožujak 2022
Open call for 2 volunteers for long-term volunteering within the NEDS project (Nature, Environment, Development and Sustainability)
The project is implemented within the European Solidarity Corps program funded by the Agency for Mobility and EU Programmes. EC Project Number: 2021-2-HR01-ESC51-VTJ-000044913
Volunteering / Mobility period: 1.5.2022 - 31.12.2022
Who can apply?
All young people aged 18 to 30 with strong motivation, desire to see and do something new, curious about the world and other cultures.
This project is focused on environmental protection, sustainable community development and solidarity. The volunteers involved will contribute to the development of the community through their support of activities such as organizing various workshops / events, environmental and solidarity activities, promoting their culture, ESC mobility opportunities and EU values.
Download the info pack of the volunteer project.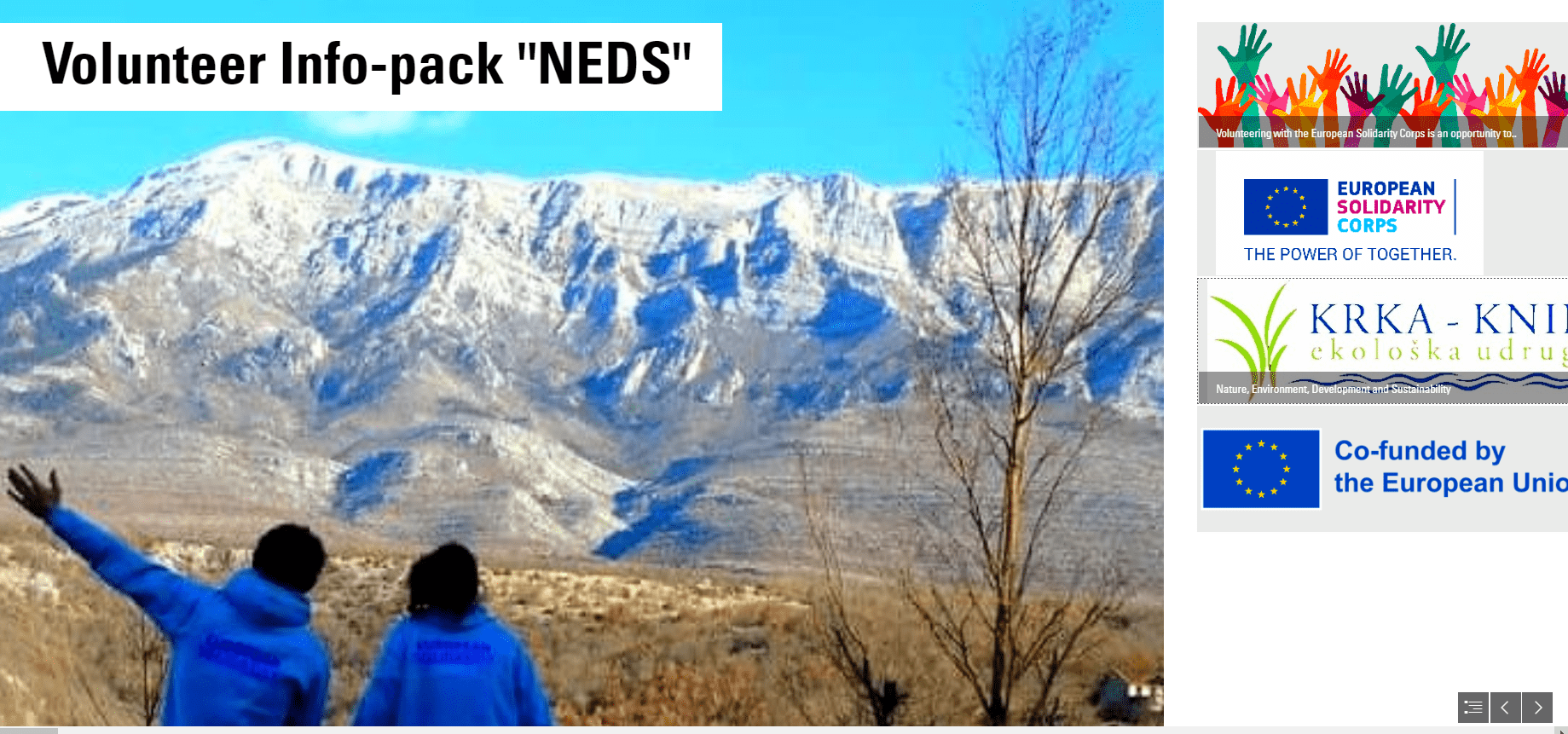 The program covers following: travel expenses, pocket money, food support, accommodation, language learning support, inclusion allowance and health insurance.
Contact us at e-mail
Ova e-mail adresa je zaštićena od spambota. Potrebno je omogućiti JavaScript da je vidite.
Otvoren poziv za 2 volontera za dugoročno volontiranje u okviru projekta NEDS (Nature, Environment, Development and Sustainability)
Projekt se provodi u okviru programa Europskih snaga solidarnosti financiranog od strane Agencije za mobilnost i programa Europske unije. EC broj: 2021-2-HR01-ESC51-VTJ-000044913
Period volontiranja: 1.4.2022 – 30.11.2022
Tko se može prijaviti?
Svi mladi od 18 do 30 godina sa snažnom motivacijom, željom da se vidi i učini nešto novo, znatiželjom o svijetu i drugim kulturama.
Ovaj projekt je usmjeren na zaštitu okoliša, održiv razvoj zajednice i solidarnost. Uključeni volonteri će dati doprinos razvoju zajednice kroz njihovu podršku aktivnostima, kao što su organiziranje raznih radionica / događaja, ekološke i aktivnosti solidarnosti, promicanje njihove kulture, mogućnosti ESC mobilnosti i EU vrijednosti.
Možete preuzeti info-pak projekta.
Program pokriva sljedeće financijske stavke volonterima: putni trošak, troškove džeparca, smještaj, potpora za učenje jezika, potpora za uključivanje (inkluziju) te osigurano zdravstveno osiguranje.